THE STORY OF DUKE
---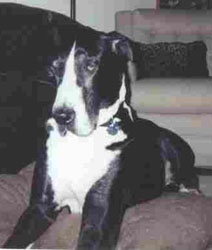 When I was growing up, we had a Great Dane. His name was Sir Duke. My dad rescued him from a backyard breeder who was in trouble for animal cruelty and had all his Danes and their puppies removed and given away. We had Duke for 11 years and he was an amazing dog. Because of this experience, I knew I wanted to get a Great Dane as soon as I bought my own home.
In 1996, I bought a house and at the same time, a friend of mine told me about someone she knew who was giving away a 1½ year old purebred Great Dane because her family could not handle him any longer. Coincidentally, his name was Duke. I was just moving into my new house so this was meant to be! I went to visit Duke a couple of times and he was NOT a nice dog. After I saw the way the children in the house treated him, I knew I HAD to rescue him from that environment. I took Duke home the week I moved into my new home. Duke hated children, most men and anyone wearing gloves. He whined and howled all the time. He followed me around. More than one time, he attacked me in the backyard when I was wearing gardening gloves. I could not handle him and did not know what to do. I called the people who used to own Duke. They told me to have him put down. There was no way I could do that because I truly felt all of his issues stemmed from a very bad beginning. I cried a lot that week.
A few days later, an amazing thing happened: Duke decided to trust me. We bonded. He calmed down and never tried to bite me again. With a lot of love and patience, Duke became a wonderful, smart and loving pet. But he wasn't just a pet; he was part of my family. Every year, Duke became more trusting of people and even started to like children! He brought me a huge amount of joy and wonderful companionship.
In the spring of 2002, when Duke was 7 ½, I took him in to have routine surgery to remove a non-malignant bump in his side. My vet did all of the pre-operative tests to make sure he could handle the anesthesia. All tests showed he was a very healthy boy. As he was coming out of the anesthesia, he developed a heart arrhythmia. I took him to a local emergency vet's heart specialist for an echocardiogram to make sure he did not have heart disease and to see what was causing this arrhythmia. I do not know what transpired in the time he was at the specialist, but the next afternoon, when I was expecting to go and pick him up, I received a phone call telling me he had died most likely due to "complications from his surgery". My shock and devastation were beyond words. There was no good explanation. I had a "perfectly healthy" dead dog (he did not have heart disease!) and a $2,000 vet bill.
I started doing a lot of research and realized that any number of factors could have contributed to whatever happened to my Duke – human error, lack of nutrients to help proper clotting of the blood, etc. I vowed that I would do everything in my power to make sure that my next pet would be as healthy as possible and live as long as possible. I thought that was what I was doing with Duke but actually there were MANY things I did not know about commercial pet foods and nutrition.
My research appalled me. I was actually feeding my beloved pet some of the awful things I was reading about? I immediately started educating my family and friends on the benefits of natural pet products. I now only feed my pets natural foods and treats and I can tell you this:
They don't have skin problems
Their coats are beautiful and they shed very little
They never have to go to the vet except for their yearly checkups
They ALWAYS eat their food
The only time they have upset stomachs is if they are eating something in the yard!
After comparing the overall health and well-being of my current babies to Duke's health, I realized even though I thought I was doing the right things, I had NO CLUE. My mission became to educate as many people as possible on the benefits of natural pet products.
I miss my wonderful Duke every day and am committed to helping others do everything they can to keep their precious companions safe, healthy and with them for many, many years to come.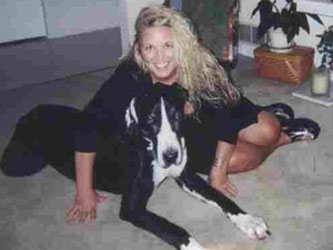 To health and happiness,
Kelly Cady-Sowers
kelly@dukesdelivery.com
Owner