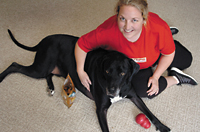 News photo by Jeffry Konczal
Kelly Cady-Sowers, owner of Duke's Natural Products for Pets, sits with her 6-year-old mastiff mix, Caleb, in her Powell home. Cady-Sowers wants to educate people on how to keep their pets healthy by providing them with natural foods.
If anything good can come of the recent nationwide pet food recall, Powell resident Kelly Cady-Sowers said she hopes it's knowledge.
A former corporate trainer, Sowers began Duke's Natural Products for Pets Ltd., three years ago after she found out what's in pet food. "I was really heavily involved with nutrition since my own first dog passed away, because someone enlightened me on what I was feeding my dog," she said.
Sowers did two years of research on what's good and bad for pets before she started Duke's. Now she delivers healthful food and treats to 200 pet owners in the Central Ohio area.
Five brands of food and treats are sold by Sowers, but she said her biggest mission is to educate the public on what's in commercial pet food.
"Most people who have pets view them as family members, and it's just amazing that people put billions of dollars into the pet industry," she said. "My dog liked the food, but we could also say children like Coco Puffs."
Sowers thought her Great Dane, Duke, was a healthy dog, but after his sudden death, she dug into pet food labels and was disgusted by what she found. "I was most floored by rendering and the four D's," she said.
In rendering, products not fit for human consumption are boiled together and processed. According to the Animal Protection Institute, "four D" animals -- animals that are dead, dying, diseased and disabled -- are legal ingredients to use in pet food.
When Sowers tells pet owners about pet food contents, she said they're usually happy to switch to something more healthful for their companion. A pet food switch takes a little time to get used to, but she said pets almost immediately will show changes.
"I can't think of one single customer whose pets haven't benefited from switching," she said.
While some owners are thrown off if they suddenly switch food when they see problems with their pet's digestive system, Sowers said benefits she's seen include more energy, better coat, fewer digestive problems, longer life and less waste from the pet.
"There's less filler and they're utilizing more of the food," she said.
Switching to a healthful pet food may be a bit more expensive, but Sowers said a good natural or organic product is not hard to find. "Every single pet store should have at least one," she said.
Reading the label is the only way to find a good product, Sowers said. She advises pet owners to avoid products with ingredients that include undefined proteins or meat sources such as animal fat, meat byproducts or bone meal. "It should be specific," she said.
Other ingredients to avoid include chemical preservatives such as BHT, BHA and ethoxyquin, as well as undetermined products and byproducts. Sowers also said pet food should not contain corn, soy or wheat. "Those are big allergens for animals," she said. "Dogs and cats have little nutritional requirement for grains."
Sowers said pet owners should look for quality meat products and labels that carry few ingredients. Whole grains such as barley, oatmeal and rice are good, and healthful preservatives include rosemary and vitamins C and E, she said.
Owners should always consult their veterinarians before switching pet foods.
For more information on pet food, visit the Web site api4animals.org. For more information on Duke's Natural Products for Pets, visit dukesdelivery.com.